Mahale Chimpanzees:
50 Years of Research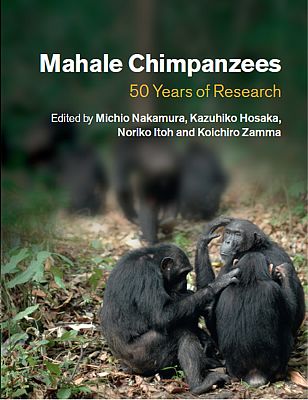 Nakamura M, Hosaka K, Itoh N, Zamma K (eds.)、Cambridge University Press、2015年9月刊行、797ページ、定価£110/$175、ISBN9781107052314
Amazon/ 紀伊國屋書店

ご案内
 マハレの研究が50周年を迎えたのを機会にこれまでの研究成果をまとめた英語の専門書です。50章からなり、24名の著者が寄稿しています。マハレでのチンパンジー研究を網羅的に知ることができる一冊です。

目次
List of contributors
Foreword
Preface
Acknowledgements

1. Introduction

Part I. History and Overview:
2. Overview of the field site: Mahale Mountains and their surroundings
3. Research history
4. Chimpanzee distribution: accumulation of survey reports
5. Who's who

Part II. Social Organization:
6. Social system: features and variations
7. Demography of the M group
8. Home range
9. Fission–fusion grouping
10. Disappearance of K group male chimpanzees: re-examination of group extinction
11. Intergroup relationships

Part III. Ecology:
12. Climate and climatological trends in the Kasoje Forest
13. Mahale flora: its historical background and long-term changes
14. Patterns and trends in fruiting phenology: some implications for chimpanzee diet
15. Mammalian fauna
16. Interspecific relationships

Part IV. Feeding:
17. Diet and feeding behavior
18. Taste of chimpanzee foods
19. Seeds from feces: implications for seed dispersal and fecal analyses
20. Hunting and food sharing
21. Insect-feeding behavior and insect fauna: with special reference to plant–insect relationships

Part V. Life History and Health:
22. Development and growth: with special reference to mother–infant relationships
23. Gerontology
24. Chimpanzee self-medication: a historical perspective of the key findings
25. Diseases and deaths: variety and impact on social life
26. Conspecific killings

Part VI. Social Relations:
27. Male–male relationships
28. Female–female relationships
29. Male–female relationships: affiliative, interventional, and dominant–subordinate interactions
30. Orphans and allomothering

Part VII. Social Behavior:
31. Intimidation display
32. Aggression and conflict management
33. Greetings and dominance
34. Grooming: Its hygienic and social aspects
35. Sexual behavior and mating strategies
36. Social play: history of the studies at Mahale and a new perspective
37. Ethograms and the diversity of behaviors

Part VIII. Behavioral Diversity:
38. Culture
39. Vocal communication
40. Diversity of play
41. Laterality of hand function
42. Use of tools and other objects
43. Bed making and nocturnal behavior

Part IX. From Field to Lab:
44. Field endocrinology
45. Skeletal and dental morphology
46. Genetic studies
47. Internal parasites

Part X. People and Chimpanzees:
48. Current status of tourism
49. Culture and subsistence ecology of the Tongwe, and their significance in chimpanzee research
50. Conservation and the future

Appendix I. Floral list
Appendix II. Dietary list
Appendix III. Mammal list
Appendix IV. Meteorological data collected at Kansyana, 1983–2013
Appendix V. List of researchers who visited Mahale
Appendix VI. List of abbreviations used for Mahale chimpanzee names
Appendix VII. Research and conservation funds for Mahale
Index.

■著作案内■
---